Government Jobs
FIFA World Cup Jobs 2022 in Qatar for Pakistanis Apply Online
The FIFA World Cup Jobs 2022 in Qatar for Pakistanis Qatar is inviting applications from dynamic, motivated, and qualified persons across the world including Pakistan to hire for FIFA World Cup 2022.
General Practitioner
Laboratory Technologist
Nurse
Specialist Emergency Medicine
Specialist Family Medicine
Specialist Internal Medicine
Assistant Fleet Manager
Assistant Storekeeper
BAA Coordinator
BAA Supervisor
Cashier
Cashier Coordinator
Chef De Partie
Clean & Waste Agent
Cleaner
Commis/cook
Concession Leader
Concessions Coordinator
Cooks
Executive Assistant
F&B Manager
Finance Coordinator
Finance Supervisor
Fleet Manager
Food Logistics Agent
Forklift Operator
Hawker
Hawker Coordinator
HR Staffing Supervisor
HSE Officer
Inventory Controller
IT Coordinator
IT Supervisor
Junior Camp Boss
Lead Trainer
Logistic Manager
Logistics Agent
Sales Assistant
Logistics Agent
Logistics Coordinator
Logistics Office Staff
Operations Manager
Pro Project Assistant
QHSE Supervisor
QSHE Coordinator
Senior Camp Boss
Senior Welfare Officer
Store Helper
Store Keeper
Training Manager
Truck Driver
Welfare Coordinator
Welfare Supervisor
Accommodation & Project Manager
Assistant Venue Operations Manager
Cashier Level Supervisor
Clean & Waste Coordinator
Clean & Waste Level Supervisor
Cluster Venue Manager
Concessions Level Supervisor
Food Production Level Supervisor
Food Production Coordinator
Food Production Crew Leader
Hawker Hub Supervisor
Hawker Level Supervisor
HR Recruitment Assistant
HR Staffing Coordinator
HR Venue Coordinator
Logistics Level Supervisor
Logistics Project Manager
Production Unit Coordinator
Production Unit Supervisor
Purchase Project Assistant
Reporting Coordinator (Operations)
Reporting Officer (Finance)
Transport Project Manager
Transportation Coordinator
Transportation Project Coordinator
Venu Operation Manager
Literate
Primary
Middle
Matric (Science/Arts)
Intermediate (FA/FSC/DAE)
Diploma
Bachelor
Graduation
Master
اگرآپکو روزنہ فری میں جابزکی وٹس ایپ الرٹ چاہیے تو گروپ جوائن کریں۔ نیچھے گروپ جوائن کریں۔
How to Apply for FIFA World Cup Jobs 2022 in Qatar for Pakistanis? آپلائی کرنے کا طریقہ
Candidates can forward applications online via To send an online application – Click Here.

only online applications should be submitted.

Candidates may also visit the OEC website www.oec.gov.pk for complete information.

The closing date of availability of the Online Application Form is 

10 September 2022

.
Interview Address: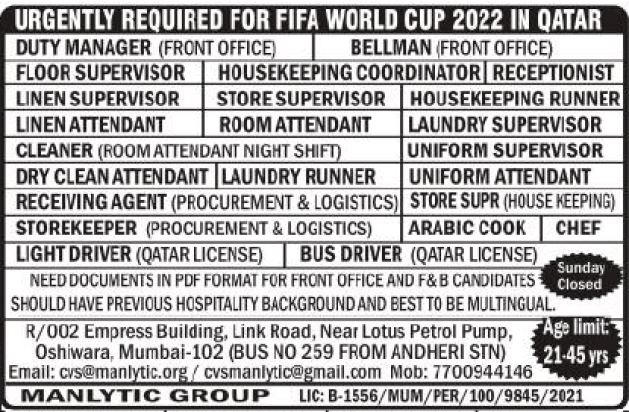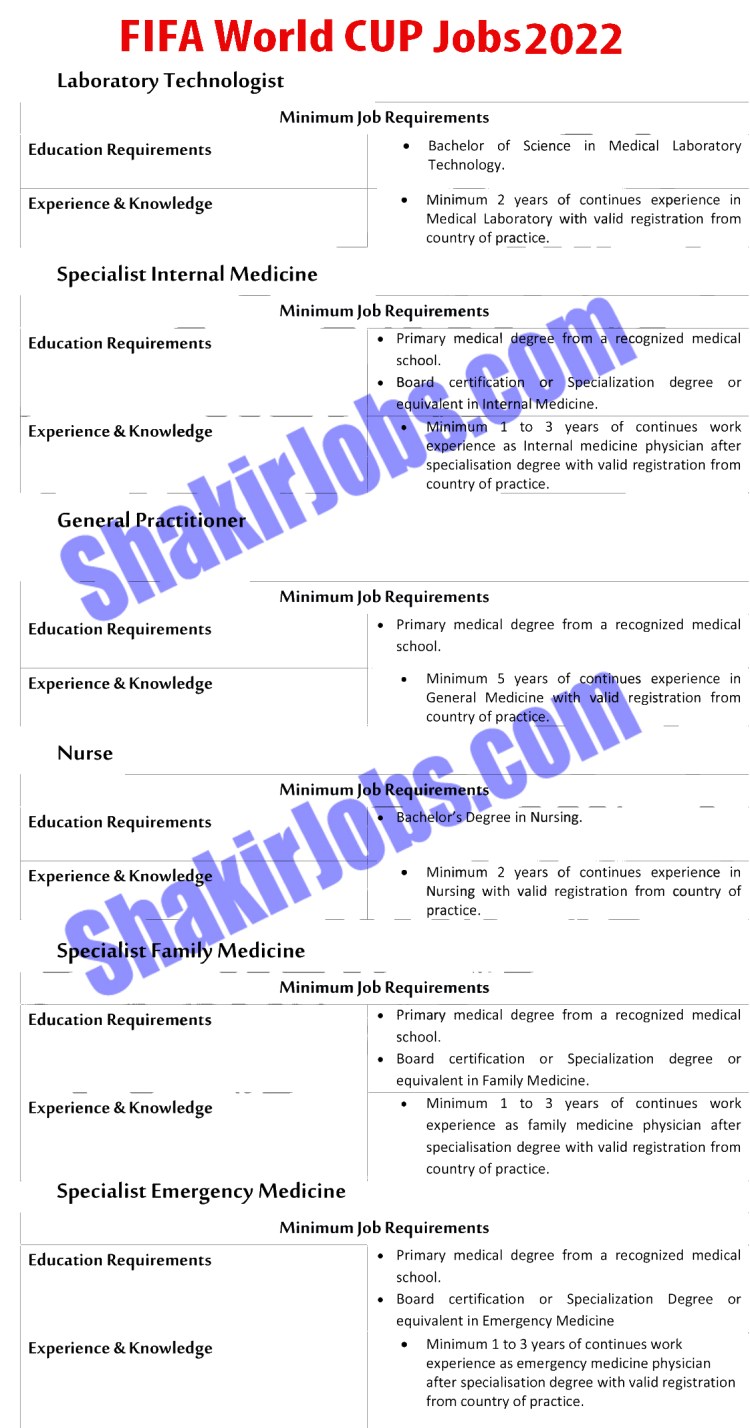 Tags:
FIFA World Cup Qatar 2022 Qatar Jobs 2022
FIFA World Cup Jobs 2022 in Qatar for Pakistanis
FIFA World Cup Qatar 2022
Qatar World Cup Jobs 2022 for Pakistani – Fifa Qatar Jobs 2022
Related