Government Jobs
[34000 Vacancies] Punjab Educators Jobs 2022 – Teaching Jobs
[34000 Vacancies] Punjab Educators Jobs 2022 – Teaching Jobs: New Educators Jobs Announced in 2022 through Education Department for all Punjab to fill the available positions in whole Punjab schools and colleges.
[34000 Vacancies] Punjab Educators Jobs 2022 – Teaching Jobs
Punjab Educators jobs 2022 New Teaching Jobs Approval. 34,000 Punjab Educators Jobs 2022 will be declared soon. The government of Punjab Pakistan has declared 34,000 new jobs in the School Education Department.
Educators Jobs within a few days will be said. On this page, we will provide you with complete information full details of the educator job in 2022. You must have a master's degree in order to apply to the educator jobs. Eligible applicants who meet the eligibility criteria may apply for teaching jobs Govt. of Punjab will publish a recruitment policy in 2022 and advertisements for recruitment of 70,000 Educators will be published after completion of the Transfer process.
If you are waiting for new educators' jobs then start your preparation from today and visit our website for guidance and past NTS papers of all subjects/posts. Are you trying to find decent Educators Jobs 2022? Want to enroll yourself in Educators then there are thousands of educators' jobs in Punjab 2022. ShakirJobs provides here complete details of each vacancy, recruitment policy, salary details, and application process for educator jobs.
Latest Punjab Educators Jobs 2022 For Male & Female
| | |
| --- | --- |
| Hiring Organization | Punjab Education Department |
| Place of Posting | Punjab |
| Qualification | Graduation/Master |
| Gender | Male/Female |
| Employment Type | Full Time |
| Total Posts | 340000 |
| Published Date | 12 March 2022 |
| Last Date | Announced Soon |
Govt of Punjab has announced a further 34,000+ Educators' jobs. Last Year, the Punjab Education Department announced 16000 Jobs but Now they come up with big numbers. According to today's newspapers.
34,000 educators will be recruited and Punjab Govt has given approval for the recruitment of educators. In this recruitment program, Totally Teachers (Educators) will be recruited for School subjects. Educators Jobs will be declared and all jobs are for the Elementary wing (14, 15 &16) BPS Scale. Punjab education department will publish the advertisement for these upcoming jobs.
There is one more big statement is that Those who have a degree in the third division cannot apply. 90% of seats for this recruitment program for Arts. Previous policies will not be followed in this recruitment program. Policies will be totally changed. B. Ed marks will increase as well. Candidates must have a bachelor degree master's degree and Commerce,
[34000 Vacancies] Punjab Educators Jobs 2022 – Teaching Jobs
Vacant Positions:
1) ESE (Arts) (BS-09)
2) ESE (Science) (BS-09)
3) SESE (Arts) (BS-14)
4) SESE (Science) (BS-14)
5) SESE (Arabic) (BS-14)
6) SESE (PET) (BS-14)
7) SESE (DM) (BS-14)
8) SESE (Computer Science) (BS-14)
9) SSE (Arts) (BS-16)
10) SSE (Science) (BS-16)
11) SSE (Computer Science) (BS-16)
12) Assistant Education Officer (AEO) (BS-16)
Complete Eligibility Criteria:
The number of posts:
34,000 Jobs for Educators
Age Limit for Female:
20 to 30 Year + 8 Year = 38 Year age limit for females.
Age limit for Male:
20 to 30 years + 5 years = 35 Year age limit for Male.
Required Qualification:
For all posts, BA, BSc, Masters/BS (Honors) (16 years Education) in a relevant subject is required as per the demand of vacant posts.
Selection Process Educators Jobs :
1.) Matric 15 marks
2.) Intermediate 20 marks
3.) Graduation 20 marks
4.) Masters 20 marks
5.) M.Phil./PhD 5 marks
6.) Professional Qualifications 5 marks
7.) Interview 5 marks
8.) NTS educators test 10 marks
Can 3rd Division Candidates Apply For Educators?
No, they can apply for educators' jobs. Applicants who have a low percentage or 3rd division (40% to 50%) cannot apply in educator's jobs 2022
Domicile:
Only Punjab
Jobs Location:
Anywhere in Punjab
Application Start:
The date will be announced soon
All eligible candidates who want to enroll their self for educator jobs may apply after announced the date through proper channel according government policies
For more details please visit our site daily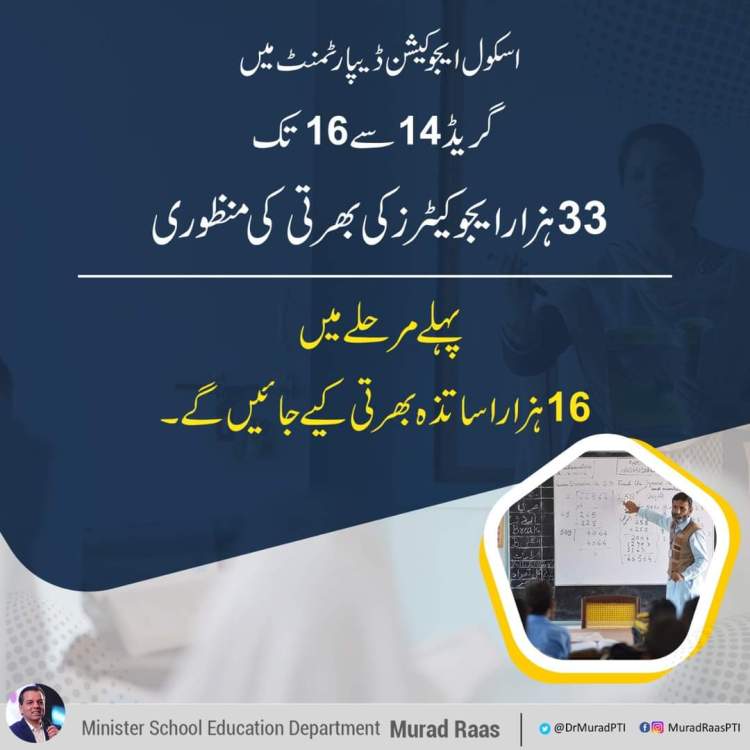 More Jobs